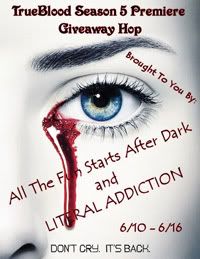 Oh My Goddess, Truebies & Fangbangers…Season 5 starts tonight and I'm pretty damn excited!!!
Glad you found your way here and welcome to the giveaway!
Thanks so much for arranging the blog hop ladies and for all the work that goes into it!!
There are lots of opportunities to win prizes from fellow bloggers so follow each link below & enter the giveaways.
This giveaway will run from
June 10th
through to
June 16th
One lucky winner will receive the complete DVD set of True Blood Season #1
This giveaway is open to Canadian and US residents
To enter, just fill out the Rafflecopter Form. Best of Luck!
Here's where you can win more: