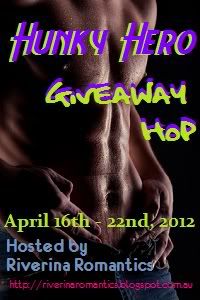 Glad you made it to Smitten's giveaway in the Hunky Hero Giveaway Hop.
This giveaway is hosted by the lovely ladies at Riverina Romantics. Thanks so much for arranging the blog hop and for all the work that goes into it!!
The giveaway will run from April 16th through to April 22nd
There's ALOT of opportunities to win so follow each link below & enter the giveaways. Each one will give you a chance to hook up with their favorite hunky heroes!
Here's a small collage of heroes that get my heart racing…
Right then...On to the giveaway...
Tessa Dawn has created some very fine heroes in her Blood Curse series…if you haven't read about those Silivasi brothers yet, well you're in for quite a treat…my giveaway is going to be the 3 novels in her series:
To enter, just fill out the Rafflecopter Form:
Here's where you can win more: